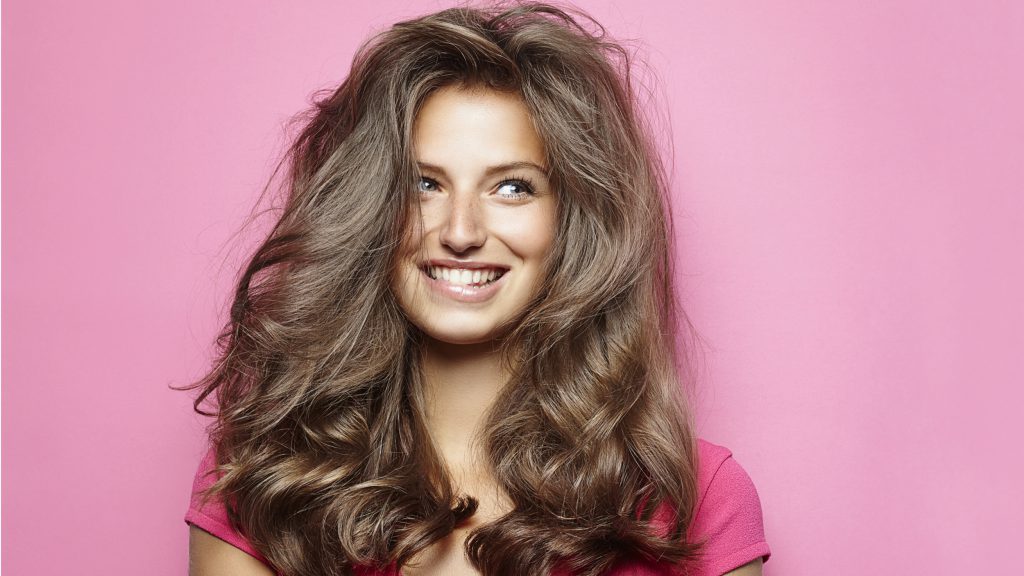 Can't you imagine washing your hair without applying a hair mask later? To me, a hair mask is an absolutely essential cosmetic in hair care. I love it so much that I always have at least a few of them in my bedroom, and use them interchangeably. Honestly, I've tested loads of them, honestly loads of… Naturally, some products worked better than others, and in this post I'm going to list four hair masks for damaged hair that I personally find worth trying. I was using each one of them for at least a few months, so I can tell you this and that about them.
My top 4 hair masks for damaged hair
NO 1: Nanoil Keratin Hair Mask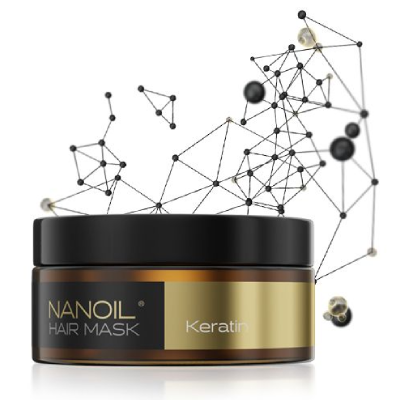 It was around a year ago when I bought Nanoil Keratin Hair Mask for the first time. Currently, I'm finishing the second packaging and I know I need to reorder it soon. And there is a reason why I'm putting this mask on in the first place – I simply love the effects it delivers.
The texture is creamy and smells wonderful. Even though it's not runny, the mask spreads easily over the hair. Another great news is that you don't need to use too much per application, which basically means that one jar (300 ml) lasts for a few months of regular use.
When it comes to the composition, Nanoil mask is formulated with quality ingredients so you won't find any unnecessary fillers. This hair repairing formula is made up of panthenol that moisturizes and provides protection. Another ingredient used in Nanoil Keratin Hair Mask is hydrolyzed keratin that rebuilds the hair and reverses damage. Keratin in general makes hair soft, shiny and elastic.
Another positive thing to mention is the fact that the Nanoil mask doesn't drag hair down at all, no matter how long you let it sit on the strands. The effects are amazing and delivered pretty quickly. Nanoil Keratin Hair Mask suits extremely damaged and normal hair equally well. Soft and shiny hair guaranteed.
For more information visit – www.nanoil.co.uk
NO 2: Keune Care Keratin Smooth Mask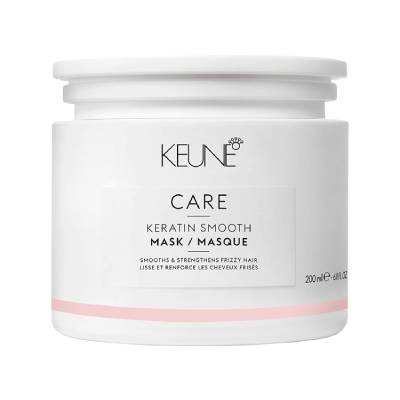 This is another keratin mask that makes my hair look fabulous. One jar has as much as 500 ml of this hair-appearance-improving mask and it's really hard to finish it – which obviously is a plus. And because of that I often reach for this product either just to help me remove plant oil from the hair (I'm talking about hair oil treatment) or just as a regular repair mask. Let me add that shea butter that the mask contains makes it dense, but I don't mind it at all.
What effects can you expect? Keune Care Keratin Smooth Mask will surely replenish water to your hair. Also, it combats the problem of fizz and static, which is basically the result of hydration. Apart from that this mask leaves hair smooth and tamed. And despite being dense, it doesn't drag hair down so you don't need to worry that it will flatten your style.
Interestingly, when you read the instructions, you will see that Keune Care Keratin Smooth Mask shouldn't be kept on hair for longer than just 2 minutes. Of course, at first I doubted that a mask would be able to improve the hair to any degree in such a short time so I let it sit on mine for around 10 minutes. And you know what? I ended up with heavy hair. That's why now I let it sit for the recommended 2-3 minutes.
NO 3: Davines Nounou Nourishing Repairing Mask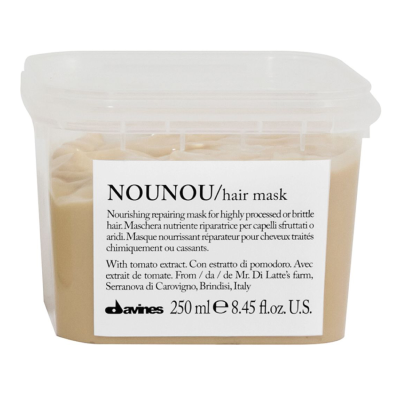 Is your hair stringy? If so, I think Davines Nounou Nourishing Repairing Mask may be your go-to. Its main task is to deliver and lock water and nutrients inside the hair. As a result, it becomes soft and better-looking.This effect appears almost instantly, after a few uses.
What surprised me most about this mask was the formula – it contains a tomato extract! I've never seen this ingredient used in other hair product but apparently it's a deeply nourishing and moisturizing substance. The mask has a fairly thick texture and I find it very efficient. You can let it sit for 5 to 15 minutes – it's up to you.
I know that some people don't like the design of Davines cosmetics, and that's why they don't want to give them a try. Well, I'm not one of them, and here's why. From what I know Davines aims at using recyclable materials, and that's basically why they don't use too much inks, colors, etc on their products' packaging.
NO 4: Phyto Phytokeratine Extreme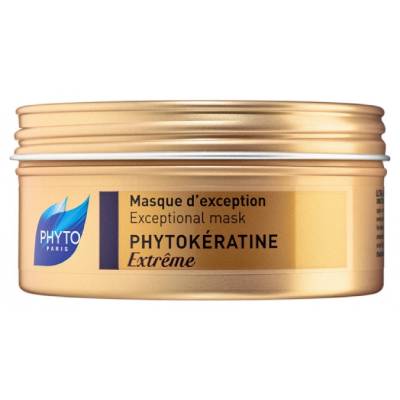 I saved the most intriguing suggestion for last. First – the size. Phyto Phytokeratine Extreme has only 100 ml. Secondly – the packaging comes with a pump, which isn't typical. Thirdly – you can't see how much product you've used up, which may be problematic for some, but it's not a huge downside, right?
As the name suggests, this mask is enriched with keratin (just like all of the masks I'm presenting to you today). And just like other products included here, Phyto Phytokeratine Extreme keeps hair safe from damage and extreme temperatures. I spread this mask over my strands prior to using a curling rod or a straightener. In most cases I use this mask normally, but from time to time I apply a small portion to the hair ends and don't rinse it.
Effects? This mask leaves my hair smooth and easy to style. And even though Phyto Phytokeratine Extreme is sometimes called a hair cream, I don't really know how it differs from a hair mask, that's why I use it as a hair mask.
If you know other keratin hair masks that are worth recommending then write their names in the comments section below. And if you happen to use one of the masks I've reviewed today, I'd love to read your thoughts about it.
Take care!