We women want beautiful, shiny, healthy looking hair. The truth is, that in spite of all the money we spend in drug stores on hair care products our hair is far from desirable. What is the reason? Overwhelming part of those products such as shampoos, hair dyes and even conditioners contain parabens and other harmful ingredients. Many of us buy top shelf products recommended by professionals but even those turn out not to be worth its price. It often happens that the condition of our hair is improved only temporarily and then it gets even worse than it used to be. Many hair products works magic on our hair but on the other hand, chemical irritate sensitive scalp skin.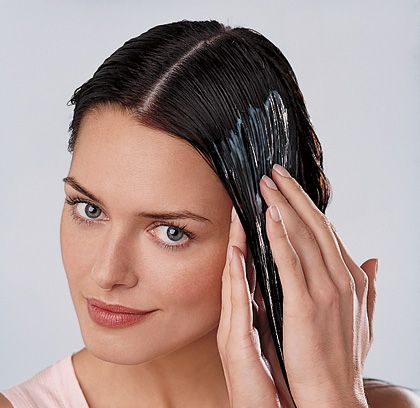 How to take care of your hair yourself?
It is worth using only natural products that are affordable and easily available. Moreover, most of us already have it in our kitchens.
One of the best ways to moisturize dry, damaged hair is hair oiling.
To do that you can use your Extra Virgin Olive Oil slightly heated up for better absorption. To get even better results you can use Coconut Oil or Argan Oil for curly hair. What is important, you should oil not only the ends of your hair but also the whole length of your hair. To get the best results it is good to leave the oil on overnight. The change you will observe after just one week of oiling is truly amazing. Hair becomes soft and shiny. It grows much quicker and split ends are remarkably reduced.
You can make your own, natural, homemade shampoo in your kitchen as well.
Baking soda is perfect as it helps to restore PH level of your hair and cleans up any product build up.
Mix two table spoons of baking soda with warm water and wash your hair massaging your scalp. Leave it for 2 min and then rinse it off with water.
After washing your hair it's time for conditioner. Probably the best, natural hair conditioner is Apple Cider Vinegar. Mix a quarter cup of vinegar with a cup of water. Spray your hair with it and leave it for 5 min. Then rinse it off with clean water. It will make your hair look stunning.