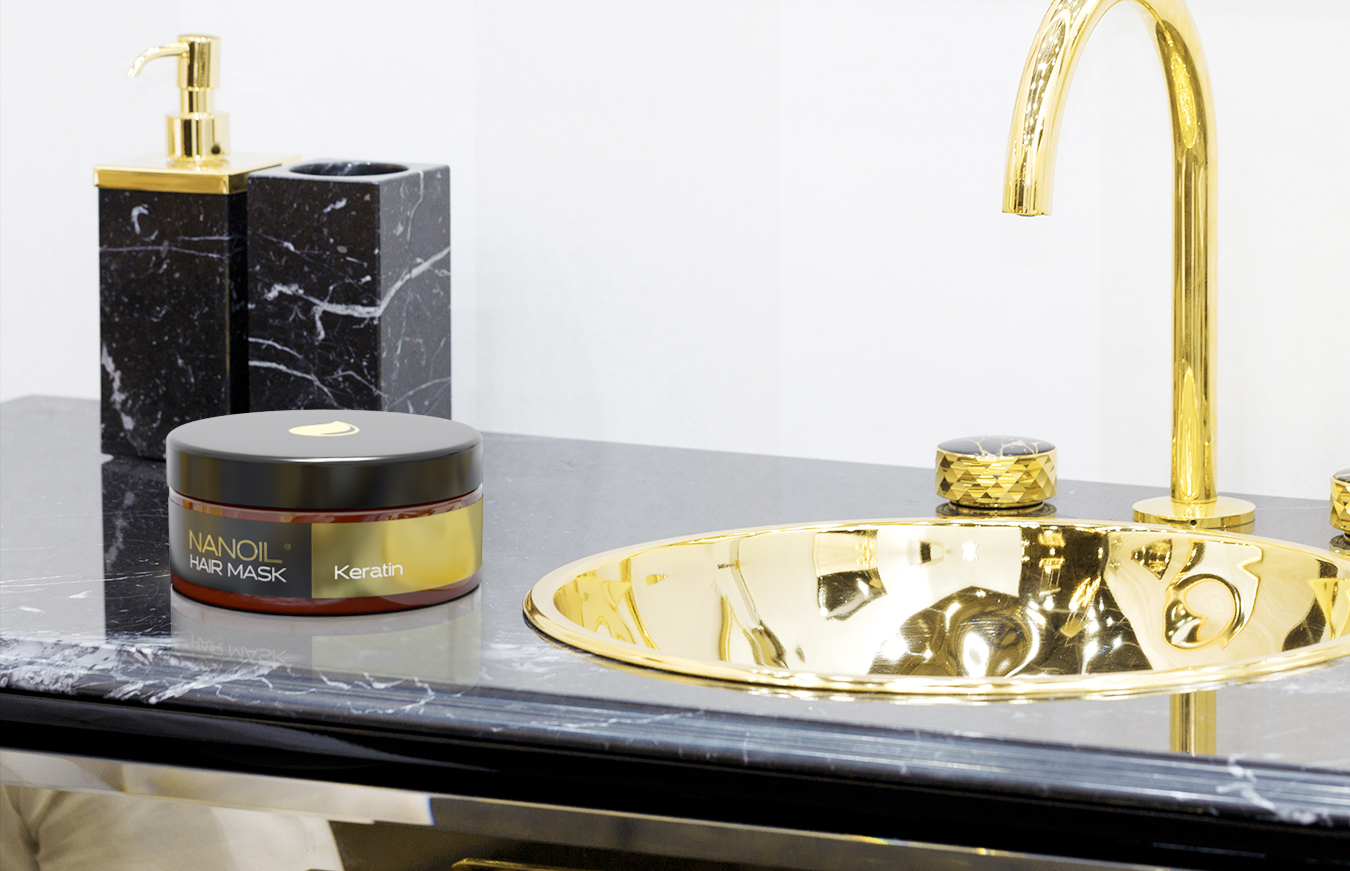 Hello 🙂
Some time ago a keratin hair mask from Nanoil dropped into my lap. Later I read that this product was hailed as the best keratin-based mask for damaged hair. Is it really that awesome? I had to verify this!
Read on to see the results of my test 🙂
Nanoil hair mask – more than keratin
I guess, I should begin with telling you that Nanoil has more hair masks on offer so you don't have to reach for the one enriched with keratin. Instead, you can choose a hair mask made with argan oil, liquid silk, sea algae or charcoal and clay. Just find the mask that answers the current needs of your strands.
However, if your hair is damaged, brittle, dry and dull, then a keratin mask would be your best choice, trust me on that. Nanoil Keratin Hair Mask is recommended for this type of hair.
How does Nanoil keratin mask affect the hair?
This is a deeply regenerative formula. This effect is owed to one ingredient – keratin, which is a protein that reverses damage in hair. There is no other more powerful substance that would repair broken hair structures, and this would be confirmed by every specialist you ask. Not without a reason keratin treatment is so popular in hairdressing salons. After all this treatment's aim is to repair hair and make it better-looking. Nanoil Keratin Hair Mask works similarly to this in-salon treatment.
The power of hydrolyzed keratin and panthenol
There is one more thing you need to know. Not all keratin hair masks deliver the same effects. Why is that? What makes Nanoil stand out?
It's about keratin that in Nanoil Keratin Hair Mask is hydrolyzed. Owing to this quality, the protein is able to penetrate deeper, work more effectively and quicker. How does it happen? Molecules of the regular form of keratin are reduced in size and this is what makes them easier to locate and fix each and every type of damage in your hair – no matter the hair layer it was caused to. Therefore, if you look for some deep repair treatment for your hair, I'd suggest using only the products formulated with hydrolyzed keratin.
In the case of keratin hair mask from Nanoil, there is one more ingredient that works to our advantage – panthenol, which is pro-vitamin of B5. This substance is in charge of keeping the adequate moisture levels in hair, preventing static and improving resilience.
My first impressions after the purchase
The formula isn't the only thing that enchanted me – the simplicity, small amount of ingredients, no bizarre-sounding fillers that shouldn't be even added to the composition. Just keratin, panthenol and a couple of lightweight silicones.
The texture itself is brilliant too. Nanoil keratin hair mask resembles a pudding, and on top of that it smells so lovely. You open the black-and-gold jar and you immediately know that in a moment your hair will look stunning. What's important, you don't need much product per application which makes Nanoil Keratin Hair Mask long-lasting. I've been using my mask for 4 months now and there is still product in the jar!
Nanoil Keratin Hair Mask – effects
Now, let me describe how the keratin hair mask from Nanoil changed my hair. I was totally surprised how fast this product works – it made my hair better-looking after just one treatment. I'm not kidding, the mask made my hair smoother and shinier instantly. Additionally, I noticed that my hair was less prone to humidity and was easier to detangle.
After regular application, Nanoil keratin hair mask managed to:
stop my hair from falling out in excess
deal with split ends
give me thicker, fuller-looking and bouncy hair
turn dullness into shine
combat brittleness and frizz
My rating: 10/10
The summary is going to be brief. This is the best keratin hair mask that I've been using (and I plan to carry on using it). It's lightweight, doesn't strip hair off volume, has a great formula and works from the very first time applied, gradually improving hair day by day making it healthier, stronger and fabulous.
Just use it and see for yourself how amazing this product is!