Make-up is a little like fashion. Each season we wonder what will be on the top this time . In fasion, however, there are certain things and looks that are always trendy. Smokey eyes is one of that lasting look. No matter what's the season it will always be in fasion. Depending on what eye colour we choose we may look like a serious businesswoman or like a party animal. The choice is ours.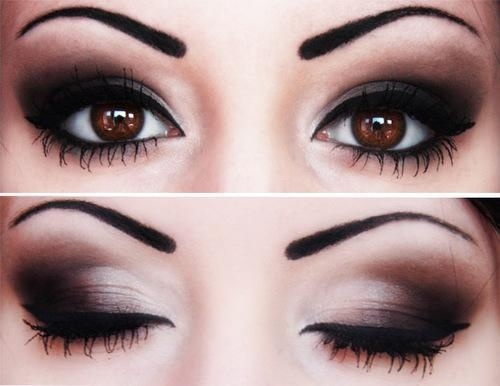 Why do we like smokey eyes so much? The answer is fairy simple – it boosts our self confidence as an atrractive female. Thanks to this captivating look we seem to be more fascinating and filtratious.
Another great thing abouth this make up is that it suits all types of hair and complections. Every woman will look amazing in smoky eyes. All needed it matching the right shade to the girl type.
To do the smoky eyes all you need is black eye pencil, dark and light eyeshadow of the same colour. Apart from cosmetics you will have to geta small, soft eye brush that will blend these coulours together.
There's nothing worse that make up that smears, moves and settles in fine lines. To avoid any of these, first you should apply a thin layer of an eye premiere on your eyelid and under your eye area. This way you will make sure the make up will remain intact.
The next step is using dark, eye pencil. Drag it along top and bottom lash lines. Be carefull not to leave any skin showing between the lines and your lashes. Use a brush to apply a darker shade from your lashes up to crease. Next, slightly drag the shadow to your lower lash line. Be cafereful not to make any hars lines, it should be blurry and dim. To get the desired effect put the brighter shade on the middle part of your eyelid. To finish the look put your favourite mascara on.
Properly made smokey eye will be one of your best and most visible traits.