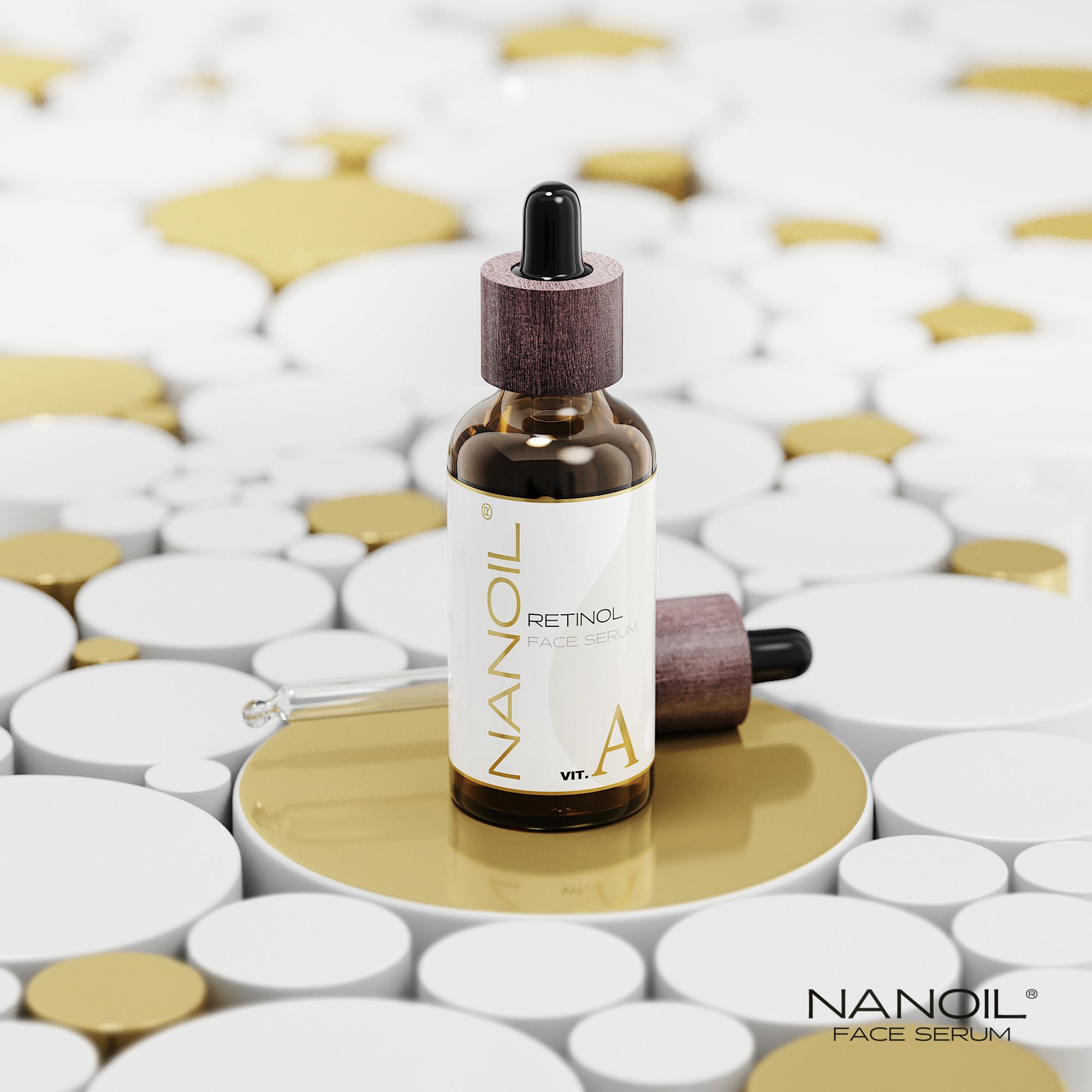 A famous quote says nothing can be said to be certain, except death and taxes. Well, I'll add face wrinkles… Thankfully, there's a way to delay the unwanted facial lines! Do you know that we have an impact on around 80% of facial aging? The merciless time and genes account for the rest. What about delaying the changes? I know a remedy: it's an effective retinol serum. The one like Nanoil. Read more in my review!
Nanoil Retinol Face Serum
I chose a Nanoil Retinol Face Serum because, sadly, my skin started aging. I saw first lines under the eyes and on the forehead. The skin started losing elasticity and a healthy color. It craved for revitalization. Because I believed retinol to be the only effective antiaging substance, my choice was obvious.
The Nanoil Serum is designed for skin in our 30s and beyond and there's no upper age limit. It contains a good form of vitamin A which is both effective and mild, so it doesn't lead to any irritations or skin peeling that retinol is often blamed for. The derivative infused into the Nanoil Serum is called Retinyl Palmitate and it works gradually, therefore, regular use fully repairs the epidermis and smooths face lines without invasive action and redness. What's more, retinol from Nanoil is stable, so it is resistant to the sunlight, staying fresh till the last drop. The volume is another thing you're going to like, I'm sure. We get 1.69 ounces for a very good price. Apart from retinol, Nanoil put an Indian plant-derived antioxidant – Punarnava – into the formula, plus a plant glycol which deeply moisturizes, leaving the skin smooth and protecting against dryness.
Application of Nanoil Retinol Face Serum
How do I use my Nanoil Serum? Easy: like any other night serum. It's ideal for the evening routine before sleep because this is when the skin undergoes the most intensive repair. I use it on clean skin, and then follow with a night cream. In the morning my skin looks rested, firm, youthful, is nice to the touch and smooth.
Nanoil Retinol Face Serum: Effect & Benefits
Of course you shouldn't expect it to make your wrinkles fade overnight. They didn't take a week to appear so they won't disappear within a week, but the serum made my face lines smoother within a few weeks. Did you know that the longer you use retinol, the better it works? It takes time to show its full potential. On the other hand, this doesn't mean retinol won't improve your skin fast. A couple of days from the first use, my skin was less dry, softer, more radiant and elastic, and had a nice, smooth tone. I can't remember the last time it looked so lovely!
Nanoil Retinol Face Serum. Why is it worth it?
Why do I think that the Nanoil Serum is the best face retinol? Above all else, it has a very beneficial effect on my skin. I've been using it for some time and there's still much left. It's non-greasy and makes the face look younger. I give it extra points for the price and rave reviews I came across: there are hundreds of them online! The formula is perfect because retinol is on the top of the ingredient list, contrary to other products having trace amounts of it. We pay for retinol and we get retinol. The short list of components holds some plant-derived substances too. Marvellous!
Where can you buy the Nanoil Retinol Face Serum?
I found it at the online store so I'm not sure if it's available physically. I recommend visiting www.nanoil.co.uk. You can get your retinol there, plus check other face serums, for example infused with vitamin C, and hair care products like remarkable masks and bi-phase conditioners. Are you familiar with Nanoil? Let me know which product you've used so far! <3