I don't have any problems with couperose skin and broken capillaries on the face but, sadly, my sister does. She told me that most products for this skin type simply fail: they don't make the skin look any better. I always tell her about cosmetics that sound promising and some time ago I came across a new arrival from Nanoil – Anti-Redness Face Serum. When I saw the formula and read the reviews, I thought it would probably be a success. I bought her one bottle and… Do you want to know the effect? Keep scrolling!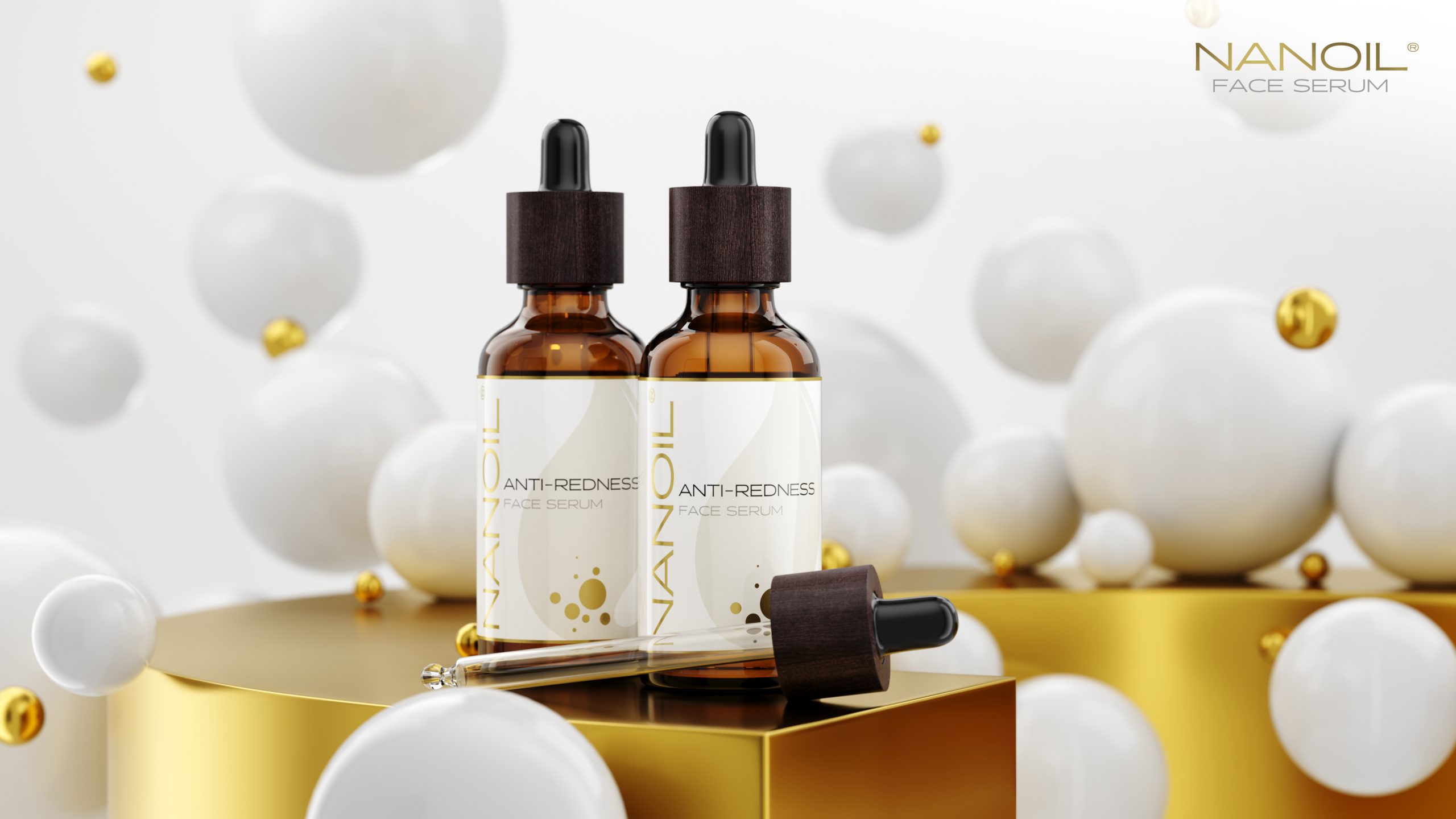 Before I get down to the nitty-gritty, I must mention that my sister used this serum twice a day on clean skin after make-up removal and toner. All of her skin care products are dedicated to sensitive skin with dilated capillaries, and have plant-derived ingredients. It's important that you nurture your couperose skin at each stage of skin care. Okay, let's move on to the details on the serum.
Nanoil Face Serum: size, consistency, price
The bottle size is surprising because Nanoil gives us 1.69 ounces of the serum while most face serums have much less, plus they have exorbitant prices.
Speaking of prices, Nanoil Serum is really affordable. Personally, I think the price is very attractive when we consider the size, super ingredients, and terrific effects (I'll go through them in detail in a moment).
The consistency is gentle on skin with broken capillaries because the serum isn't thick, heavy or oily – it's based on water and botanicals which prove the most effective on couperose skin. It is absorbed easily and my sister's face stays silky and free from unhealthy shine for many hours. Another asset? It doesn't cause make-up pilling.
Nanoil Anti-Redness Face Serum: miracle-working botanicals
The ingredients are definitely worth noting because they are stellar! The formula contains four plant extracts which complement each other and are suited so as to treat broken capillaries and redness-prone skin.
Buckeye extract – it is a valuable ingredient when it comes to couperose skin and broken blood vessels because it produces fantastic effects: reinforces capillaries, and prevents occurence of so-called spider veins.
Linden extract – it calms the skin and soothes it, and has an extra anti-inflammatory effect.
Cypress extract – it deeply nourishes, hydrates and revitalizes, alleviates flare-ups, and increases skin's resistance to triggering factors.
Punarnava extract – it helps keep the skin young, firm and free from wrinkles, and is a strong antioxidant.
Nanoil Anti-Redness Face Serum: what does it do and how long do you wait for the effects?
The effects are what you're here for, right? My sister's been using this serum for a month or so and I can see her skin looks different: it's smooth, moisturized and has an even tone. She used to experience red patches after a hot meal. The problem is gone now! Plus her face doesn't over-react to weather that much. She stopped complaining about spider veins. Nanoil is a perfect serum for couperose skin because it doesn't only calm the skin, but also prevents new unwanted changes. My sister says her skin has never felt so relieved. Her face is much smoother and has a nicer color. We live in one house and I know that no other product gave her such fantastic results. If you feel like testing this miraculous serum, pop into www.nanoil.co.uk!