You think that hair care is a piece of cake? It isn't. I've tested hundreds of products and none worked for my hair the way Nanoil does. You can't just take any shampoo or conditioner. Hair also has its precise needs. I didn't use to realise that and didn't know why my hair gets so frizzy on each rainy day. Thanks to Nanoil Hair Oil, I understood the idea of the conscious hair care.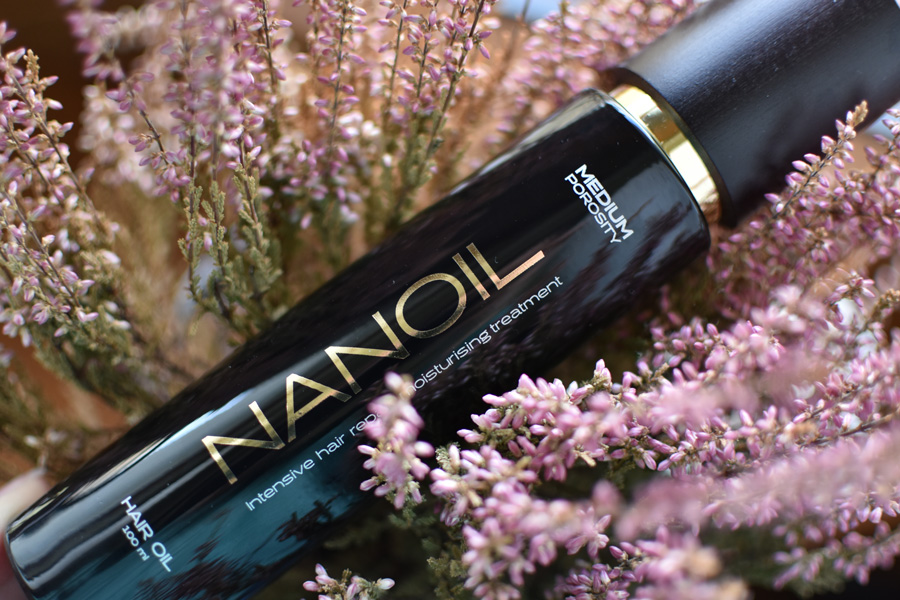 Today, I want to share it with you!
My version of Nanoil Hair Oil is the one designed for medium porosity hair.
I did a porosity test (described later on) and it turned out I have typical hair. It is problematic only when I don't deliver necessary nutrients.
For example, you must remember to close cuticle scales with cold water or vinegar rinse after every hair washing, and use Nanoil regularly, that's for sure. It is the only way to make sure the scales are nicely arranged along the hair stem. The problem appears when the scales start raising: hair becomes rough, coarse, dull and frizzy. This was my biggest problem!
Why is Nanoil Hair Oil the best?
I know I must give you a few words of explanation. There are so many other oils, conditioners and serums available at drugstores. So why did I choose Nanoil? Yes, they are available… And they are useless. They include lots of silicones, alcohols and preservatives. Since I started paying attention to the list of ingredients, I buy products in a conscious way.
♥ Only Nanoil Hair Oil is all-natural and free from parabens and silicones. This wonderful formula is nothing but vegetable oils and additional nutrients e.g. vitamins.
Since I met Nanoil, I adore taking care of my hair. I know what it needs. I also know why it gets frizzy and what happens to cuticle scales when – for example – I use a flat iron too often. They simply get destroyed.
Only a few months ago I was using the flat iron religiously. I felt like my hair had to be perfectly straight but it was impossible to achieve. Nanoil Hair Oil is a lightweight, quickly-absorbed formula of a beautiful aroma. Thanks to Nanoil, I finally learnt the texture of my hair. It is naturally wavy and no longer frizzy! Nanoil Hair Oil defines the natural curl of my hair. One thing I can say: my hair has never been so beautiful before!
What are the ingredients of Nanoil for medium porosity hair that work for my hair?
First of all, the ideal composition of six vegetable oils that match my hair structure. How? They include lots of omega-7 and omega-9 unsaturated fatty acids – the ones that are essential for my hair and suit mu hair structure most.
Macadamia Nut Oil increased my hair resilience and reduced greasy roots. Dry hair ends and oily scalp was my problem. Macadamia Oil worked as the regulator of sebum glands. The problem is gone.
Argan Oil is a well-known regenerating oil. I wasn't even aware that argan oil gives heat protection. Now, it helps me to shield my hair while heat-styling.
Marula Seed Oil is something new for me. According to the description (on Nanoil website), its task is to reinforce the natural protective layer of hair. Our hair is covered with a hydro-lipid layer and Marula Oil provides it with essential acids. It makes hair better moisturised, which I could feel after only 2-3 applications.
I used to apply Jojoba Oil only to my face. Now, I know it also reduces greasy hair and nullifies dandruff. I didn't have this kind of problem but my skin seems better purified when I use it.
Passionfruit Oil (Maracuja) delivers shine and softness. It conditions the hair outside, makes styling easier, reduces frizz and tames unruly strands.
Coconut Oil doesn't have moisturising properties like I used to think. It plays the role of a "security guard" that protects fragile tips of my hair. It restores elasticity and smoothness, prevents breakage and seals cuticle scales that I have already mentioned.
There's even more! Nanoil for medium porosity hair also includes a set of extra ingredients that protect, nourish and stimulate growth. I also found vitamin A, E, silk, sunscreen and two mysterious substances among the ingredients. I read on and these turned out to be:
Kerastim

 

anti hair loss,
Baicapil

 

for hair growth.
Did Nanoil make my hair grow more quickly? I think it did. I haven't measured my hair for a while but – to my eye – it's longer. And I've been using Nanoil for only 4 weeks! Amazing, isn't it?
How to use Nanoil Hair Oil?
To sum up, I will tell you about the application technique I chose and why.
Nanoil for medium porosity hair is a weightless oil. It is non-greasy. You can see it's excellently absorbed the moment you apply it to hands. It has never weighed my hair down or made it greasy, even when I applied a large amount (like when I oil my hair). I don't know about the two other versions – there is also Nanoil for low and high porosity hair – but I believe they also have as nice consistency as my version.
What did I like most about the product? Nobody imposes any instructions for use. Nobody tells me how much I should use, when or how long to keep it. No! Nanoil creators give a few tips on how we CAN apply Nanoil Hair Oil. Regularity is the key!
Two methods of application work for my hair:
1. Wet hair oiling before washing. I wet my hair when I plan washing it e.g. in the evening. I apply 2-3 pumps of Nanoil Hair Oil (enough for my quite long hair) and rub into hair and scalp. When I have time, I massage the scalp for several minutes for better absorption. I put on a towel and stay with the turban for even 2-3 hours. Next, I take a shower and wash it off with a mild kids shampoo. Nanoil is easily rinsed out and leaves a silky layer on the hair surface.
2. After washing and before blow-drying. I choose this way when I'm pressed for time. I wash my hair as usual, squeeze in a towel, warm up Nanoil Hair Oil between the palms and apply to damp strands. I gently rub it and then blow-dry. The effect is similar!
Do I recommend Nanoil Hair Oil? It is one of the best hair products of recent months I won't replace it with any other cosmetic. Undoubtedly, I recommend to anyone who expects something more than superficial effects. There are very few such oils. Its price is right and I'm ready to pay that much again.
To me, it is a flawless product. And it's available online!