One of the most famous cosmetic company – Maybelline keeps indulging us with great, new products. This time is has realised eye shadows that are meant to be as duraable as a tattoo. Sound too good to be truth? Of course we can't expect it to last for a lifetime but the producer guarantees that it will definitely stay on for 24 hrs.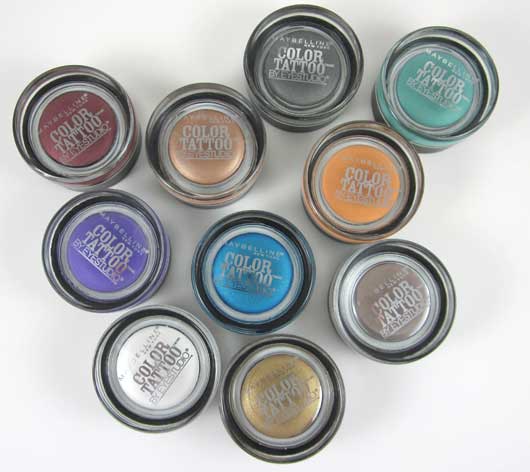 Let's start from the shades offered by Maybelline. It must be said that it is quite impressive. We can choose from beige, teal, brown, black, yellow, blue, red, orange, gold, purple and many more. It is not so ' colourful' when it comes to the product availability. You may leave the drugstore disappointed as most of the shops stock only few of those items. On average on shop shelves you can find 4-6 shades of these shadows.
The product package looks classy and tidy. It's a little jar with a see-through lid.
Although it may look nice most of the users find it quite impractical. When applying the product with your hands not only your fingers gets dirty but it turns out that a big part of the product stays under your nail.
It is advisable that you apply the eye shadow with the use of a little sponge or an eye brush.
Is it really so durable Maybelline claims? We do have to admit that this product truly is what it says on the label.
It doesn't really matter what kind of application you choose, it will remain intact all day long. This is the main and the biggest advantage the Color Tattoo has over other eye shadows.
Another good thing is that it does not crease even if don't put eye base beforehand.
This product is designed for the eye lid but thanks to its durability and a huge choice of darkish colours it can be easily used to shape eyebrows. The best shades would bronze colours e.g. no. 40 – Permanent Taupe or for ladies with dark hair no. 60- Black.
It turns out that the Color Tattoo has won hearts of many of us already. For those who find out about this product just now, get it, give it a try and you are bound to love it.